As a manufacturer of custom shipping, compliance labeling, and a wide variety of additional material handling systems we recognize that everyone starts somewhere. The most common comment(s) we get regarding automation fulfillment is, "Automating my process would be nice but, we are too small…don't have enough throughput… can't afford it. While some of these statements may be true hurdles before diving into automation, we believe the Sprinter™ Shipping System is a good first step to negating these entry barriers.
What Does The Sprinter™ Do?
More often than not someone walks up to the StreamTech Demo Sprinter™, studies it, and then asks, "But what does it do?" From the outside, the Sprinter™ looks like nothing more than a piece of conveyor shuffling cartons through and slapping a label on them. The inner workings of the Sprinter™ are gathering, connecting, and verifying data to simplify end-of-line processes.
The Sprinter™ all-in-one shipping station is capable of scanning, weighing, dimensioning, printing, and applying labels and verifying. It can also integrate with a multitude of additional features. Ten feet doesn't seem like a significant impact, but by combining the individual process that is manually done you are not only saving space but time with an all-in-one system.
The Sprinter™ comes into play after the pick and pack process. We also manufacture other fulfillment automation processes that fall into place before the Sprinter™ such as picking automation or pack automation. An order has already been tied to the LPN (License Plate Number) or unique identification number. The Sprinter™ can handle a minimum carton size of 4" W x 6" L and a maximum of 21" W x 26" L. The carton is typically closed and ready to go through the end-of-line fulfillment process.
Induction Scan
The first step in most processes is identifying what you are working with. The Sprinter™ is no different. Its first order of business is to scan the LPN or identification barcode. Unique identification is required when manifesting a carton for a carrier. This can be the specific order number or a number that is uniquely associated with the order. The Sprinter™ is capable of scanning a wide variety of barcode symbologies, sizes, and locations.
Once the barcode is examined, it is now ready to add details. One of the many beneficial aspects of the Sprinter™ is its Allen-Bradley-based control system. The open architecture allows the Sprinter™ to expand and integrate with existing and future operations quickly. Additional features such as a dimensioner can speed up operations and provide accurate, error-free details to the carton.
Weighing
The weight of the carton is captured and recorded in StreamTech's Warehouse Control System (WCS) software. The Sprinter™ scale is suitable for weighing parcels up to 75 lbs. and 28" long. With a throughput of 14-18 cartons per minute, the Sprinter™ scale is a viable option for taking your first step into automating the end-of-line fulfillment process. For faster throughput and additional options, we offer upgraded scales.
Dimensioning
Automating dimensional weighing is a valuable option that saves on many fronts. We utilize a laser-based system with an encoder that measures the carton to the nearest 0.25 inches in 3 dimensions. Automating dimensioning can mean significant time & cost savings. On average it takes an employee 15-30 seconds to measure and record the dimensions of a carton.
Along with those 15-30 seconds come mistakes occasionally. Sprinter™'s dimensioner cuts that time down to a fourth and also does it error-free as it records the data into the StreamTech Sprinter™ software. You are now holding your carriers accountable for dimweight charges along with maintaining your service level.
Print And Apply Labeling
All of the data we require for each carton has been captured and recorded. It's time to print and apply the shipping label. StreamTech utilizes an all-electric print and apply applicator. It is low maintenance and offers easy label roll change-out. The 14" tamp comes standard with an option for a 22" as an upgrade. For even faster operations we utilize a larger printer applicator with the capacity to hold 3,800 labels per roll with a 36" tamp stroke.
Verify
Accuracy is the Sprinter™'s forte. After all of the pieces of the puzzle come together they are checked one last time to make sure they are correct. The Sprinter™ scans the LPN and shipping label for a parity check. If all checks out the carton are sent down its proper carrier lane. If there is a problem with the parcel it will be sent down the "jackpot" lane for review by an employee.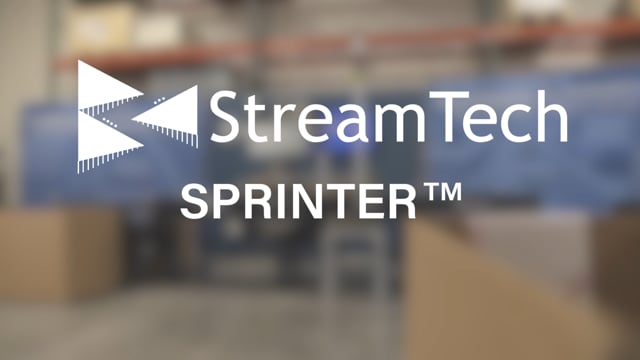 The StreamTech Sprinter™ is a great first step into automating end-of-line fulfillment processes.
Through Its All-In-One Nature The Sprinter™ Shipping System Brings Numerous Benefits:
Reduce manual labor
Eliminates the need for shipping stations dedicated by carrier
Holds your carrier accountable for dimweight charges
Eliminates data entry errors
Increases your throughput while maintaining your service level
Paired with a multi-carrier system the Sprinter™ automates rate-shopping, address verification and proof of delivery