Overview
Pic the Gift specializes in personalized items such as blankets, mugs, ornaments, pajamas, desk pads, and more for both their own customers from their web storefront, as well as as a third-party partner for other companies. Pic the Gift uses a very high-quality image transfer process – costs more than other methods, but it lasts longer, and will not crack or peel over time, like other printing methods.
Of their orders, the largest percentage is for blankets, and the StreamTech fulfillment line was needed specifically for these orders. Since each item is unique and printed at their facility, Pic the Gift's fulfillment line flows straight out of their print-on-demand manufacturing areas, to get packaged, weighed, and labeled for shipment.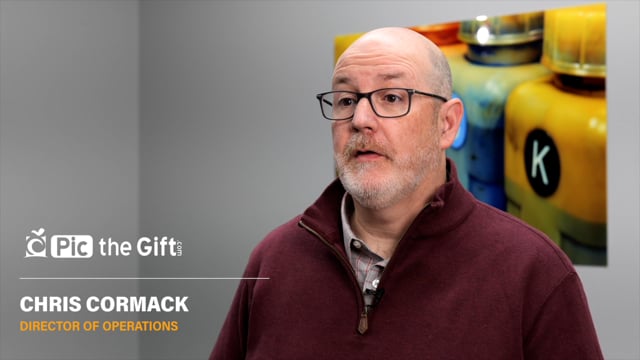 Project Scope
Labor-intensive and error-prone manual fulfillment took too many resources from Pic the Gift's core manufacturing process and required too much training especially during peak holiday surge periods when team members were rotating between different roles.
In the new process, once the blankets are printed using their proprietary process they get folded, and put on the conveyor to go through a shrink wrapping machine, with the order ticket sealed inside the clear wrap. The StreamTech system uses this order information to ID the item throughout the rest of the process as it is weighed, dimensioned, and manifested for shipment.
The system automatically polybags the products in a ship-ready package. StreamTech's WCS consolidates multi-line orders via Pic the Gift's Netsuite system, and uses a weight check for additional quality control. After heat shrink, StreamTech manifests the package with the preferred carrier and prints, applies and verifies the label, prior to sorting.
Results
In less than 3 months with the new equipment, the Pic the Gift team has been able to familiarize themselves with the system enough to now rely on it for over 40% of their goods.  This has allowed them to reduce strain on existing labor, re-allocate team members to other tasks, and handle peak season with ease.
"Automation really showed us what we're capable of!  We were able to get through peak season with the same amount of manpower, less fatigue, and without 24 hour shifts for the first time."    – Chris Cormack, Director of Operations, Pic the Gift
In the company's first holiday season with the new automation – from the Thanksgiving holiday to Christmas – Pic the Gift was able to fulfill the same amount of packages with 60% less labor required for the fulfillment process.  As the team continues to become more familiar and acclimated to the system, they are expecting these numbers to continue to improve. 
Conclusion
As Pic the Gift continues to grow, they are evaluating future automation opportunities where they can provide help for their team and give them capacity to take on higher volume orders and develop new custom items to meet the needs of their customers. 
"Being able to automate the shipping process has allowed our workers a lot less strain on their bodies.  It's a lot easier for them to do their jobs, which is really important to us.  It's all about making their day to day easy, they're happy when they come in, when they're happy, they pay more attention, the job gets done better.  We want to continue to provide a safe workplace that allows our people to succeed, and as we continue going that way, the more automation we can get the better."  – Ryan Schneider, Process Improvement Engineer
If you are considering new or existing automation upgrades, get in touch with a StreamTech team member and we look forward to discussing your project.