Fulfillment Automation Benefits
So why choose fulfillment automation? There are a lot of reasons for fulfillment automation, and it ultimately comes down to increasing operational efficiency. It's not always just about speed. As you are considering the ROI (Return On Investment) for your next warehouse improvement project, here are a few of the reasons to consider fulfillment automation. We'll explore Labor Efficiency, Labor Costs, Speed, Customer Experience, Flexibility, and Future Growth.
But before we explore the reasons for automation, let's take a look at the competitive eCommerce landscape and how it's changing.
Booming eCommerce Growth: Automate Or Miss Opportunities
Fulfillment automation is no longer just for the big players. In order to understand the growing demand for fulfillment automation equipment, let's first take a look at consumers' penchant for eCommerce shopping, because they have a correlation.
Over the past few years, as consumers have become less interested in brick-and-mortar retail business, eCommerce has grown. From 2010 to 2020, eCommerce's share of total retail sales grew an average of 11% YOY, steadily. Over these years, the largest share of eCommerce growth was with Amazon.
The pandemic changed that and accelerated eCommerce growth. As consumers were pushed toward a digital life, with fewer in-person events, gas money, and stimulus money to spend, online shopping soared. From Q1 2020 to Q2, however, it grew 37%! During this time, Amazon lost market share, down from 43.8% of all eCommerce sales to just 31.4%. The other top 100 online retailers besides Amazon had a 74.1% share of eCommerce growth, up from 49.4% in 2019.
The above numbers point to a trend – consumers have increased spending, and are spreading their shopping around a wider variety of retailers. If the effect is measurable on the top 100 retailers, it tells us fulfillment automation is not just for the big guys.
Labor Efficiency:
For most fulfillment operations, it is inefficient for employees to perform lots of small repetitive manual tasks, such as scanning, label application, box closure, or sorting. By introducing automation to perform these types of tasks, one employee can now oversee the system, covering multiple tasks with one person, and freeing up the remaining staff to be productive in other areas.
Taking away the burden of repetitive manual tasks and transferring them to more supervisory roles eliminates dangerous situations. Making the operation more ergonomic and less burdensome means employees are less fatigued and less prone to injury.
The cost of manual labor is not fixed – it is subject to increases to match the cost of living. As inflation continues, and societal and governmental pressures push for wage increases, companies are wise to look at automation to minimize this risk. Additionally, manual labor comes with other costs such as liability insurance, personal protective equipment, and health benefits. Optimizing labor also has advantages when it comes to labor shortages. The labor force has seen a reduction in the number of general laborers, which makes automation the next logical step.
Costs:
Aside from the cost of labor, there are other costs associated with fulfilling orders that automation can help reduce. For example, fulfillment automation introduces opportunities to reduce shipping costs. Adding the ability to measure dimensional weight allows for more accurate shipping charges, as most carriers are no longer just charging based on the weight of the carton, but also on its dimensions of it. Another shipping cost reduction comes with the ability to rate shop carriers and ship by the most efficient means possible.
Shipping automation can handle this process very quickly and effectively, without adding much time to the process.
Speed & Customer Experience:
Automation makes the fulfillment process faster. Getting more orders out the door in a shorter amount of time is often the first benefit people think of when considering automation. Increasing production allows for your business to grow, take on more orders, turn around those orders to customers faster, and more accurately, and in turn, increase sales and profits.
The other benefit of speed and accuracy is that your customers receive their orders in a timely fashion, without missing delivery expectations. With a significant increase in the number of choices in order fulfillment, excellent customer service, and personalized order experiences become a much bigger differentiator.
Watch Fulfillment Automation in Action: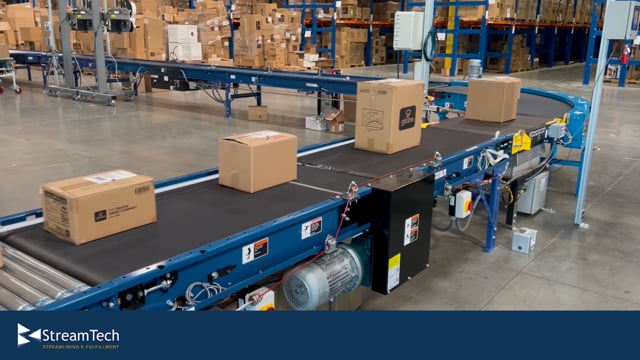 Flexibility & Future Growth:
One of the most unsung heroes of fulfillment automation is flexibility and future-proofing. Fulfillment automation gives you the ability to scale with your business needs. When operations are not automated, peak periods like holidays can cause a huge strain on your business – requiring seasonal labor, shipping delays, and other constraints with meeting demand.
Automation can also allow your business to be prepared for growth. Automation gives you the flexibility to add new products and enter new markets without concern about your fulfillment operation being overwhelmed by the capacity.
Explore Fulfillment Automation Technologies:
When considering a fulfillment automation system, it is most efficient when it can be centrally controlled and integrated, all the way from picking, packing, shipping, and final sortation. StreamTech offers the integration necessary to bring all the automation together and maximize your return on investment.