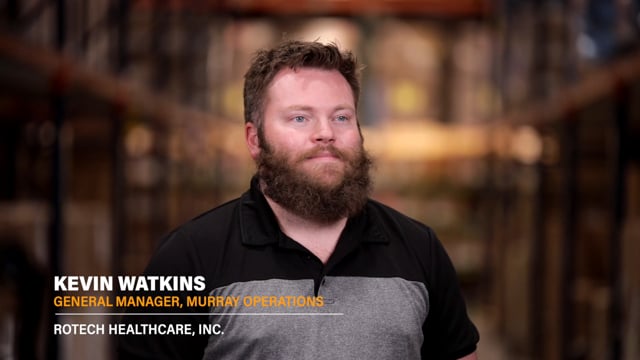 Project Scope:
In order to more effectively serve their customers, Rotech has been looking at ways to improve the speed and costs of fulfillment. The company approached StreamTech to try to find solutions to renovate and upgrade their existing picking, packing and shipping systems. They wanted to improve ergonomics, improve their ability to process polybagged items, rate shop and sort packages by carrier. StreamTech worked with Rotech to re-design the picking and packing areas and studied the polybag characteristics in order to successfully include this packaging. As a result, Rotech is able to gain the cost advantages of the polybags with reliable routing and sorting.
Results
Ergonomics: StreamTech worked with Rotech to implement a new conveyor using ergonomic guidelines so that employees do not have to strain to interact with the equipment. This allows employees to work more effectively, improves productivity and is safer for their health. In order to accomplish this, the conveyor includes multiple levels, where trays are presented directly to the employee at waist height, and then returned on the second level below. Noise levels have been reduced dramatically, enhancing the work environment and aiding in employee retention.
Pick & Pack Process: Orders are picked to trays, and distributed to four polybaggers. StreamTech's ability to keep the orders flowing at a consistent rate for each polybagger is critical to this process. With this new process, the employees can focus solely on packing the orders, and let the automation handle the rest.
As full trays are delivered, orders are packed out, and trays returned automatically to the picking picking. Once bagged and sealed, orders are consolidated to one conveyor, smoothly transitioning to the lower level for shipping and sortation.
StreamTech's WCS software provides allows different modes to be selected for various order volumes and staffing levels with real-time statistics available to management on local and remote screens.
Sortation & Multi-Carrier: In the process of developing the new automation, Rotech decided it would be a good opportunity to negotiate new multi-carrier agreements, instead of the single shipper arrangement previously established. With StreamTech's shipping automation, Warehouse Control System (WCS) and in-house sortation, the multi-carrier system requires no manual operation and gives Rotech the flexibility to rate shop and realize significant savings.
Conclusion:
Rotech's new automation accomplishes their goal of lowering costs, optimizing labor, increasing throughput and daily order capacity. The addition of new multi-carrier shipping automation improves their Return On Investment (ROI) further and puts them in more control of their costs. With this new automation in place, Rotech is better positioned for growth, and can more effectively accomplish their mission of supplying patients with the healthcare products they need.
If you are considering new or existing automation upgrades, get in touch with a StreamTech team member and we look forward to discussing your project.